Countable
Countable
| 10.1.19
The DC: 📅 Ukraine whistleblower saga timeline, and... Should Congress end Trump's border emergency order?
Join the 114,268 people who've taken action on Countable this week
by Countable | 10.1.19
Welcome to Tuesday, October 1st, curly and straight...
Lots of people, places, and pieces involved in the now-infamous phone call between President Donald Trump and Ukrainian President Vladomyr Zelensky.
That's why we put together....
It's got every investigation, firing, and blowing-of-whistle you need to know to make sense of the ongoing saga, including these greatest hits:
April - May 2014 – Vice President Joe Biden's son, Hunter, joins the board of Burisma, a natural gas firm based in Kiev, Ukraine.
June 8, 2017 - Trump's personal attorney, Rudy Giuliani, meets with Ukrainian President Petro Poroshenko and Prosecutor General Yuriy Lutsenko.
Mid-July 2019 - Trump tells Acting Chief of Staff Mick Mulvaney to withhold almost $400 million in aid to Ukraine.
Read the full timeline here, then tell your reps:
How do you feel about the White House's interaction with Ukraine?
On the Radar
Ending Border Emergency, Starting Another Veto Fight
The House of Representatives voted 236-174 on Friday to terminate the border security emergency declared by President Trump, sending the bill to the president's desk where it will be vetoed.
After that, the disapproval resolution will return to the Senate ― where it initially passed 54-41 on Wednesday ― for an attempt to override Trump's veto that would require a two-thirds majority.
If all this sounds familiar, that's because Congress went through this process back earlier this year. The House passed an identical termination resolution on February 26th with a 245-182 vote, the Senate passed its bill 59-41 on March 14th, and it was vetoed by the president the next day. Had it been enacted, the bill would've brought an end to the emergency the president has used to facilitate the transfer of funds to border security efforts.
Under the National Emergencies Act, Congress can use expedited procedures to vote every six months on the termination of an ongoing national emergency declared by the president.
Under the Radar
Senate Would Consider Articles of Impeachment
Senate Majority Leader Mitch McConnell (R-KY) reiterated in a Monday interview that his chamber would hold a trial if the House of Representatives advances articles of impeachment against President Donald Trump, putting an end to speculation his chamber would ignore them altogether.
"Under the Senate rules, we're required to take it up if the House does go down that path, and we'll follow the rules," McConnell explained on CNBC's Squawk Alley. He added that:
"It's a Senate rule related to impeachment that would take 67 votes to change, so I would have no choice but to take it up. How long you're on it is a whole different matter, but I would have no choice but to take it up."
Should Congress impeach and remove President Trump?
Your Gov at a Glance 👀
The White House: President Trump in D.C.
At 2:00pm EDT, the president will receive his intelligence briefing.
At 4:00pm EDT, the president will meet with the secretary of defense.
The House of Representatives: Out
The House will return Tuesday, October 15th.
The Senate: Out
The Senate will return Tuesday, October 15th.
What You're Saying
Here's how you're answering Should Candidates & Campaigns Report Offers of Election Assistance by Foreign Gov'ts to the FBI?
(Follow RjGoodman's comment here.)
(Follow Joe's comment here.)
Also Worth a Click
And, in the End…
It's Model T Day.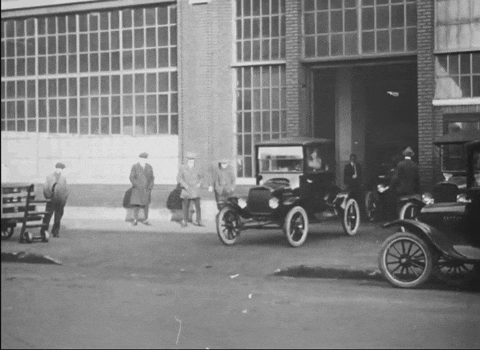 On October 1st, 1908, Henry Ford introduced the Model T. Sticker price: $850.
Leave the lids off your garbage for International Racoon Appreciation Day,
—Josh Herman
Talk to us via email at contact [at] countable.us. And don't forget to keep in touch @Countable.